See the updates page for details on bugfixes and new features.
Description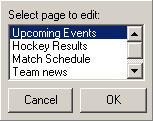 News Updater is a small program which provides a clear and easy Graphical User Interface for anyone who wants to update his/her site. First a template needs to be created to reflect the look and feel of the site. Then some FTP data, filenames and locations (where the files should be put) are required. After this anyone will be able to upload an article with ease. No scripting knowledge is required, no database is needed, it's quick and easy.
News Updater now also supports images to be added with an article. This makes it useful for estate agents or car dealers who wish to show their products online.
News Updater also speeds up a site's performance. A static page can be delivered much faster than any script-generated page since no database needs to be inquired for content.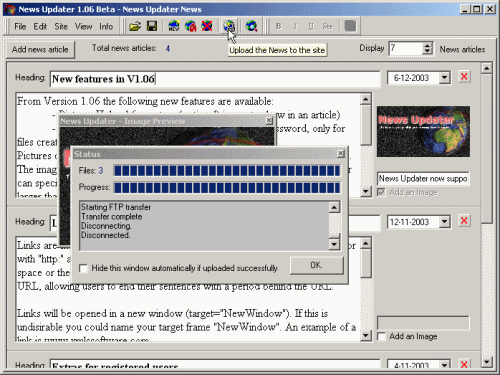 Download a copy form the Downloads page.
Cost
News Updater is Free for personal non-commercial use. For commercial use (or if you want full password protection) News Updater costs only 25 Euro (29.38 Euro including 17.5% tax for EU customers). More details are on the Registration page.
It might save a lot of monthly costs when eleminating the need of server side Scripting (CGI-bin and Database). Many ISP's offer a free static site with their dial-in account. In such cases only the yearly cost of a domain-name remains.
Limitations
For unregistered users the only functional limitation is that you will not be able to protect your files with a password (you can protect your template and FTP settings though). Registered users will also be able to add their logo and some custom text in the about-box (a non functional- extra service, nice when developing a website for a client).

Showing off some text markup features
Developers benefits
Using News Updater requires no scripting knowledge and will speed up development time.
A developer only needs to know how to use HTML and FTP to build a site
Testing and debugging time is reduced dramatically
Developing a page that can be edited by the user involves the following:
Paste HTML for "layout and look" into the template
Fill in the filenames, and the directories where they should be uploaded to
Test and debug offline in a local test directory
Fill in the FTP login data
Test and deliver it to the happy user who never expected it to be finished os soon!
See the step by step tutorial, or look at the example template for more details
End-users benefits
The end user has the following benefits:
Cheap site (no monthly costs for database, CGI or "server side scripting")
Cheap development
Fast site (no scripts or databases to engage the servers resources)
Offline editing of the articles (when finished it can be uploaded in a short time, especially handy when dialing in with a telephone-modem)
The program is small enough to fit on a floppy disk or a USB-keyring. No installation (or registration) is required for the user. See the users manual for more information and examples.
Support
Support by E-mail: support@xmlssoftware.com.
Bug reports: bugs@xmlssoftware.com.
Other: info@xmlssoftware.com.
Product News
News Updater
V1.10 is out!



Friends links:



Affiliate links: